Discrete 8 Pro Synergy Core 26×32 Thunderbolt 3 and USB 2.0 Audio Interface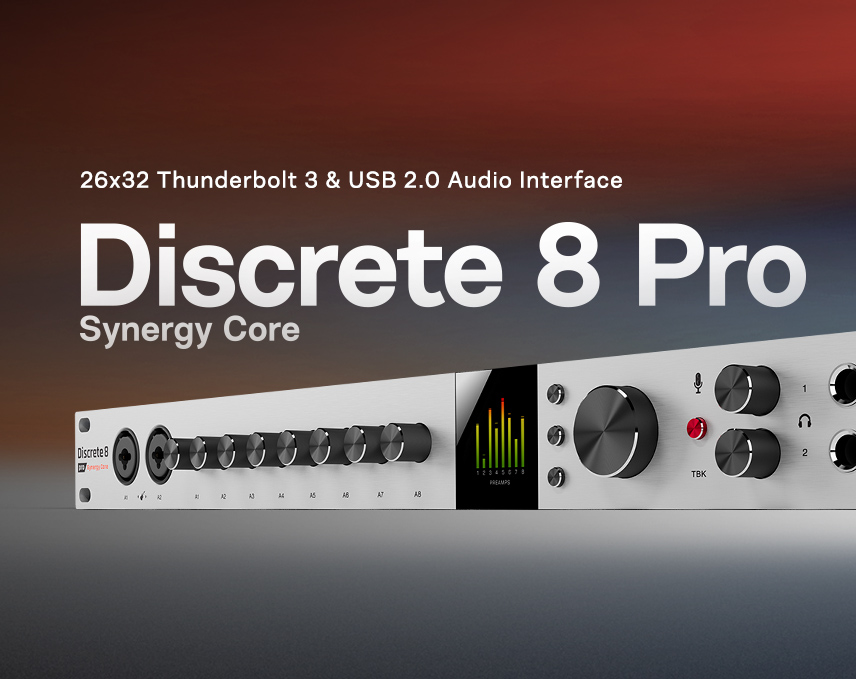 Built to perform
The Discrete 8 Pro is the new generation of a modern classic. The 1U rack audio interface packs industry-leading sound quality, transparent preamps, extensive connectivity and the powerful Synergy Core effects platform.
This versatile interface embodies a zero-compromise approach to hardware – made readily accessible via its redesigned software control panel.
Virtual patch-bay
Remove complexity, add creativity
The Discrete 8 Pro allows connection between any signal source and any destination for turning any session scenario into reality. Yes, seriously: every analog or digital output, effect strip or DAW track can receive any of the analog or digital inputs, effect returns, computer source channels or the four stereo mixes. All this flexibility is accessible via the full virtual patch-bay or the simplified routing view – the choice is yours.
Explore all avenues
with 26 inputs & 32 outputs
The generous number of preamps, analog and digital I/O support a wealth of applications: voice work, multi-synth setups, live recordings of small ensembles and even close-miked drum kits. And with both USB and Thunderbolt 3 connectivity, the interface achieves cutting-edge performance and easy integration with any setup.

Mic/Combo Inputs A1 – A2 – (XLR, LINE, HI-Z)
Talkback button & Built-In microphone input
Headphone volume adjustment knobs H1 – H2
Headphone outputs H1 – H2

Word Clock I/O (1x W.C. in – 3x W.C. Outs)
2x S/PDIF Ports – 2 channels of I/O (Up to 24-bit, 192kHz)
4 x ADAT Ports – 16 channels of I/O (up to 24-bit, 48kHz – I/O reduced at higher sample rate)
Thunderbolt 3 Port – 32 channels of I/O (Up to 24- bit, 192kHz)
USB 2 Port – 24 channels of I/O (Up to 24-bit, 192kHz)
D'Sub 25 Line Outputs – 8 channels (Up to 24-bit, 192kHz,)
Main Monitor Output (1/4″ TRS ballanced ,DC-Coupled)
Re-amp outputs R-1, R-2 – (Instrument outputs) Alternative Speaker Output
Mic/Line Inputs A3 – A8 XLR/LINE
Sound quality
Record and monitor with uncompromising sound detail
The A-D/D-A converters and clocking are at the heart of every studio. The Discrete 8 Pro has been upgraded with latest generation converters (up to 130dB of headroom), while keeping the 64-bit AFC™ clocking technology established by our industry-standard master clocks. With the interface in your rack, you can experience a new level of detail in your recordings and enjoy wider soundstage for an exceptional stereo image in audio playback.
Microphone preamps
Console-grade,
times eight
The Discrete 8 Pro packs eight discrete Class-A microphone preamps, formed of six transistors each and based on circuits found in classic recording consoles. The proof is in the clarity, depth and ultra-low noise floor, with up to 65 dB of gain to satisfy even the hungriest mics.
All eight inputs accept XLR as well as line-level TS/TRS jacks, and the two front panel inputs can even be switched to Hi-Z instrument inputs.
Effects processing
Stack up your processing
chain and send to any output
Our unique Synergy Core platform gives you access to hardware-based analog-modeled outboard recreations. Running on a hybrid system of one FPGA and two DSP chips, you can monitor, record and mix using an ever-expanding library of low-latency processors. Even at the highest sample rate, the Discrete 8 Pro supports the full number of effects, simultaneously.
With the Discrete 8 Pro you can load effects on up to sixteen channel strips.
You can process any signal source – including all digital and analog inputs and outputs.
The interface is mic modeling ready, featuring an extensive library of all-time favorites to emulate when using the Edge series microphones.

Processes effects in real-time with imperceptible latency while monitoring, tracking or mixing.
Offloads all processing to the interface thus saving your host computer CPU & memory.
now available
afx2daw
Taking advantage of high-speed Thunderbolt™, the afx2daw plug-in lets you use Synergy Core effects inside most popular DAWs, providing native workflow while keeping all the processing inside the interface.
afx2daw is available as a separate purchase from our software store, for macOS and Windows.
Learn more
Going beyond the basics
With a wide variety of I/O options you can easily adapt to any recording scenario. The following set of dedicated features come in handy as workflow requirements evolve.
Word clock I/O
Sync the rest of your digital hardware to your Discrete with three Word Clock outputs. With the Word Clock input, you can slave the interface for more versatility in your clocking configuration.
Reamp outputs
Take your clean guitar signal outside the interface and record it back using your favorite amplifier/cabinet combo, without needing a reamp box.
Talkback
Choose any of the eight mic inputs or the dedicated, built-in talkback mic on the front panel, to send to the monitor and headphone outputs.
Footswitch input
This input supports either a single footswitch (on 1/4″ TS jack) to control the dim function or a dual footswitch to control both the talkback and dim functions.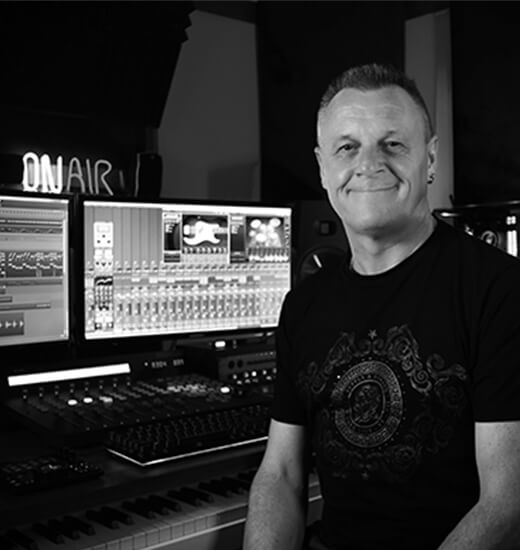 —
""I get the chance to compare MANY audio interfaces, and the amazing, crystal clear, preamps are one of the many reasons I choose to use the Discrete 8 Pro as the primary interface in my studio"
Mike Enjo
Founder of Creative Sauce – Producer, Creator, and Music Educator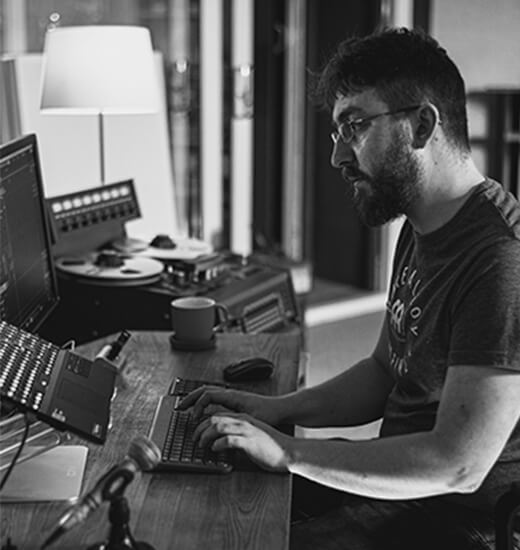 —
"The Discrete 8 Pro serves as the perfect heart for my studio. The magic of the routing matrix and the AFX in combination allow for some serious magic to happen."
Mike Malyan
Monuments, Educator @ MalyanDrum Academy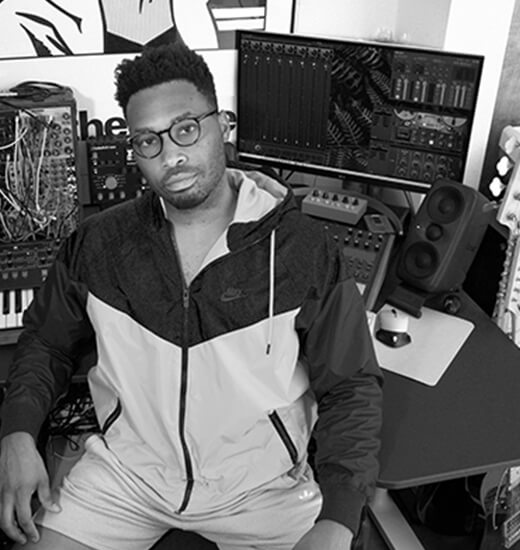 —
"The Discrete 8 Pro has been the main hub of my studio, I use all 8 preamps and love the smooth and detailed response from them, the routing options are endless through the matrix making any input and output accessible. I use the AFX plugins in every session the internal DSP and FPGA saves me from maxing out my CPU."
Stephen Fitzgerald
Musician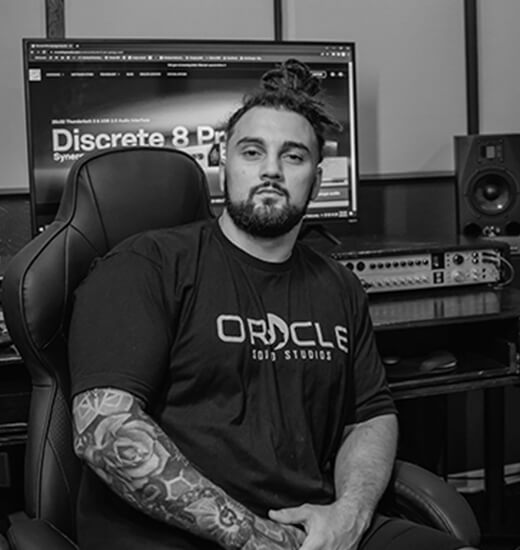 —
"The Antelope Audio Discrete series really evolved my workflow. It literally replaced my need for any rack hardware or pre amps. The sound I get within the device is legit game changing… next level color/clarity."
Hunter Wilson
Recording & Mix Engineer, Producer : Th3rdCoastRoots, Clay G, Drifting Roots