Independent producer Drew Bang rocks the Orion Studio Synergy Core with style
The steady rise of music producer and audio engineer Drew Bang has been nothing short of impressive. Since 2012 when Phil Sisson, the former manager of Strongroom, gave him the role of studio runner, it has been a climb that led him to produce for big names. His journey to success wasn't a cakewalk but the London-based freelancer has established himself by working with bands like U2, Royal Blood and Slaves. Nowadays, he spends most of his time as his own boss – freelancing for artists and working on different projects. We recently caught up with him in Strongroom Studio 2 to see how he feels about the Orion Studio Synergy Core audio interface.
Integrating Orion Studio Synergy Core
Perfecting his craft mostly in large-format console studios, Drew had to adjust to shifting demand. – "A lot of bands I have been working with recently are working on a budget so we have been moving out of the studio and further into the box. People can't afford to hire a big studio but the expectations are the same. For me, I don't want to change my workflow, I want to work in a way that I feel comfortable but if I am moving from the studio into the box how do I make that work? How do I work intuitively and still get the results that people are looking for?"
Coming to save the day are the onboard effects and the DSP & FPGA chip combination processing FX with extremely low latency- "I've been using the audio interface a lot for mixing and mostly I have been using the onboard effects. The FPGA and DSP are incredibly powerful. Bringing my workflow from the studio into the box and being able to load up studio classic compressors, EQ's…I can load up any signal chain knowing that is exactly how it will do in the studio. Anything I would use on a large-format console session."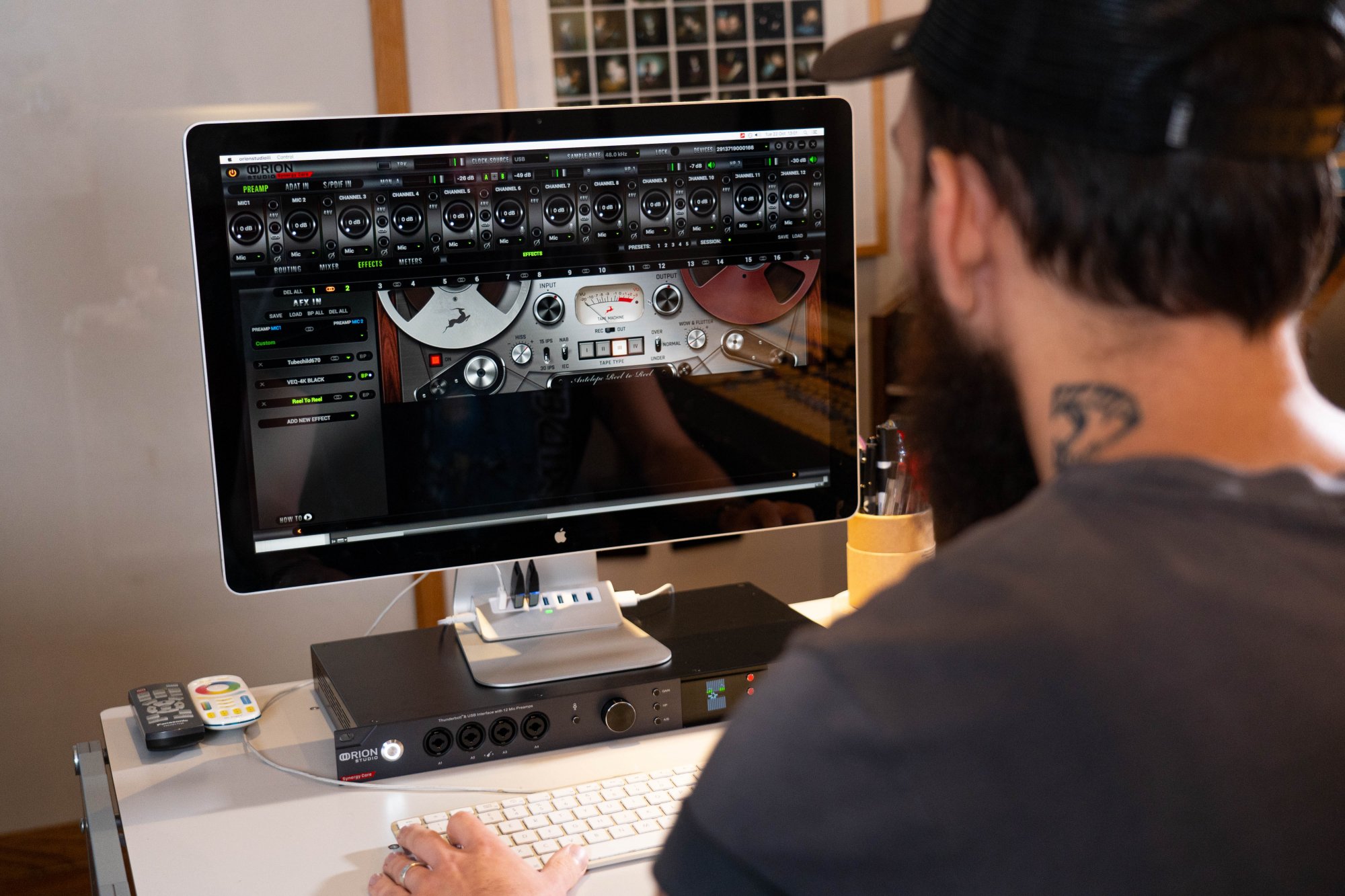 Orion Studio Synergy Core for recording sessions
Drew has also been using the Orion Studio Synergy Core for recording sessions – "If you want to use it to record you can totally have it as the heart of your studio. It has got twelve class-A mic pres. Four of those mic pres are also high-impedance instrument inputs that are accessible from the front. There are also two completely independent headphone outputs on the front and you have the hub of your studio right there in front of you."
With Drew's music production skills and the power stored in the Orion Studio Synergy Core, we can only expect great things to come – "The synergy core has been amazing to use. It is super powerful. I don't even think I have scratched the surface on this thing."
Catch up with Drew Bang at drewbang.com.
Take a look at another Strongroom appearance for Antelope Audio.